Written by Neil Bryant
I have been running for ten years now, and in that time, my tastes have slowly changed from wanting to be as fast as possible on anything from road to easy trail, and training fairly seriously for that purpose, to now, which is where I really want to challenge my limits in the mountains. I now live in Chamonix which is a fantastic place, not just for the huge network of insanely good trails that snake all through the valley, but also for the great vibe created by a valley full of people that all have at least one thing in common ; we all love the mountains. The challenge of running long in the mountains is what I feel I should be doing. I'm not great at it and I in fact think that I am stronger at other disciplines of running, but I don't care as this is what really excites me.
Drew Sheffield first had a go at the Andorra Ultra 2 years ago and had a horror of a race, DNFing close to the end as he just could't continue. Last year he returned and completed. He was just bowled over with what a beautiful place Andorra was, and how brutally tough the course was. He had good reason to think this as at 170km long, they have somehow managed to squeeze in 13,500m of ascent. Not only is there huge amounts of climbing, but it is riddled with very technical sections. Drew said it was 'The race'. Another good indicator of just how difficult this race is, is the 62hr cut-off. This sounds right up my street!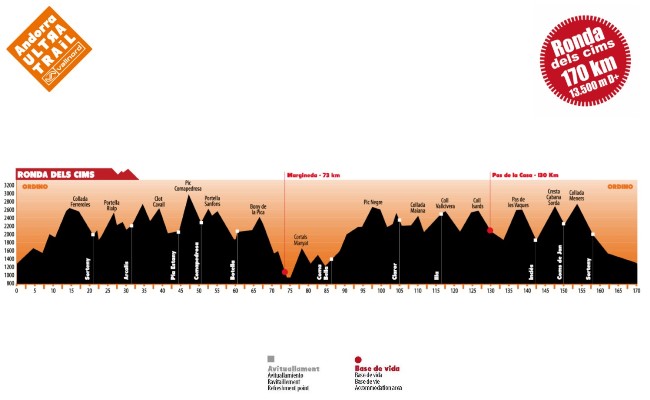 I entered and was surprised how slowly it fills up. It makes a change to know that you can do a race rather than leaving it to lady luck for the more popular races that fill up super fast and/or have a lottery system, which makes planning your year very difficult.
My year consists of just two races which I think is the least I have entered since taking up running. They are biggies though. Ronda of course being the first and later on in September I have a place (not so easy to get!) in the Tor Des Geants which I am most excited about. Over the Winter I was on the skis alot, and had the skins on getting in plenty of ascent, so when the snow started to melt allowing me to go running, I felt quite fit. I then started going out a fair amount as I felt my body had adapted back to the high impact of running. It was good to go to the door for a run with no equipment, unlike skiing, especially touring.
So, as the race approached, I was feeling quite good about things. Having lived in the Alps for over two years now, I felt like I had really got used to the huge amount of ascent. I felt like I had an idea what 13,500m of ascent would be like, how crushingly relentless it would be. It would be very difficult, but it wouldn't surprise me.
I flew into Barcelona two days before and caught the three hour bus directly to the apartment in Ordino where Drew, Claire and Drews parents were staying. They had a spare room that they kindly let me stay in. Drew was back for his third time and Claire was running in the 83km Celestrail (She finished in a magnificent 3rd place in the senior females).
The forecast was showing some high temperatures, from mid 20's to the mid 30's. I wasn't too keen on this as I am not great in the heat, often suffering with an upset gut which won't allow much if any eating. Hey ho, never mind. Being wedged between Spain and France, I wasn't expecting a cool race. We had had a fairly warm summer in Chamonix so far, and I had purposely not shyed away from the hot parts of the day, hoping that my body would adapt a little to the heat. Maybe I will be alright this time?
The next day was spent lounging around in the baking sun, eating a fantastic buger, registering and of course plenty of faffing. There are two major checkpoints, the first at Margineda at 73km and the second at Pas de la Casa at the 130km point. These are both bag drop cp's. I decided to not bother with the first and to leave fresh shoes (relatively), socks, and a top at the second. At the briefing they showed a fly-through graphic of the whole course, and it was seriously impressive! It just went on and on and on.
The start was at 7am the next morning. Thankfully our apartment was around 100 metres from the start so our morning was very relaxed. In fact it was so relaxed that we got there just five minutes from the start.
Terry Conway had met up with Drew and I for the start. I knew Wiktor, a friend I had met last year at the Irontrail, and Mark Collinson were here too but I didn't see them, even though Mark is pretty tall. The start was typically Euro with fireworks and rousing music that always builds up the start and makes the pulse pump that few beats quicker. No time for anything now, just to run. We did a bit of a lap around the roads of Ordino, and within five minutes we were onto the trail. It soon got narrow and there was a little queuing as everyone took there turn.
This initial climb, which included a few tiny descents in it was around 15km long and climbed around 1300 metres. Soon, Drew dropped back and Terry and I were together. Our pacing seemed even and sensible, so all seemed fine. We were below the tree line and were rarely in the sun for the first hour or so, but nevertheless the sweat was pouring off of me. It felt really humid. This niggled away in the back of my mind, but I knew I just had to look after myself as best as possible. What else could I do?
I had a Buff on my head to protect me from the sun, keep the sweat out of my eyes, and what became the most important feature, to dunk in every icy cool river that I passed to attempt to keep me from overheating. The tree cover started to get thinner, and with it the sun started to show it's force. It was still early in the day, and I really wasn't looking forward to facing the full heat of the day later on. As you look at a profile of the whole route, you'll see that it is roughly split into two sections where you stay above 1800 metres. The split comes when you drop down to Margineda, the first major cp at around 74km and sits at 1000 metres altitude. After that you are soon above 1800 metres till you drop down to the finish in Ordino. As I thought about this I realised that the precious trees that had provided much shelter from the sun, would no longer help as we would likely be above the treeline for the rest of the race.
Terry and I were happily moving at a calm and steady pace. My stomach was feeling very slightly queezy, but of no concern as I could eat with no problem. It was starting to really heat up and as we were making our way up a ascent. Terry was in front and suddenly sat at the side of the trail, looking like he was going to tie his lace or something. I asked if he was ok. "Fine", he responded." Carry on". So I did. I knew that we were approaching the first cp at Sorteny at around the 21km point, so thought we would rejoin there.
I was starting to run past people out apparently spectating so knew I must be very close. I came round the shoulder of a hill and saw the ski lift with crowds of people sat all around it, cheering as those ahead of me passed. I soon was stood gratefully in the shade surveying the table of refreshments. It looked quite good and varied. I had already planned to not rush through, knowing that proper restocking of food and drink, could potentially make this race for me. I knew my speed was already slow, and though I could eat, it wasn't easy. Hmm, this was not a good sign, especially at this early stage. They had plenty of watermelon, and thankfully, this was going down a treat. Not exactly the fuel that would keep me going for a race like this though.
After a long ten minutes stood trying to cool down, I walked back out into the sun with a handful of dried sausage. I managed to get it all down, but it wasn't easy. My pace was quite slow here but then I thought that Terry was obviously having his own troubles, as he hadn't shown at the cp. I later found out that he was out.
As I pushed on, I realised that I could no longer run as it shook up my already disturbed guts more. And so the death march began! I focused on my pole technique and speed marching as hard as I could, but of course as soon as I hit a down, everyone seemed to pass me. I soon realised that any time target I had set would be unlikely and soon impossible. I must just push on. What else could I do?
The day just got hotter and hotter, reaching a scorching 35 degrees. Way too hot for this ginger! Slowly but surely I clambered over each peak, being both bewildered and utterly impressed with the amazing course. There were just no punches pulled. Often you would be following the trail of little red flags across really technical ground and would glance to the side, and notice a perfectly good trail running parallel to the route. I tried not to think to much about where my race was going as it wasn't looking good. I would just focus on making the next cp, and hopefully this would get me to the first major cp at Margineda where I would rest properly and really try to sort myself out before continuing. I was now in a place I rarely have been. Time was now meaningless and the race was no longer a race for me. It was all about survival for me. I was nowhere near cutoff currently, but knew that the way I was moving, this could very easily become an issue. Anyway. I had decided to not worry about this untill Margineda.
Thankfully, the sun dipped and the high mountain soon shielded me from it. The temperature dropped a bit, but it was still pretty warm. After a real battle to get up what in Winter was a ski slope, I was at the Botella cp. I was quite spaced out here, even though the sun was out of sight. I tried to eat, but couldn't really get anything down. I had barely eaten all day since breakfast. No wonder I felt spaced! I wandered into the building and found some bunks and decided that a 10 minute crash wouldn't hurt. It felt amazing to relax and be stationary. Amazingly, when the 10 minutes were up , I dragged myself up and prepared to move.
The next few km were actually in the trees (bit late now the sun had gone) and the terrain was undulating, which initially was nice, but soon became frustrating as I couldn't run so was just going even slower than most people. Or so it seemed as a slow stream of people passed me with some telling me to run with them. I of course thanked them but had to wave them on, continuing at my snails pace. The final short climb had me sat on the cool grass as I tried to ration what little energy I had. My Petzl was now on, and so the night begun. I had been looking forward to the night all day, for the coolness, but sadly my guts where not letting me profit from these cooler conditions. I finally made the top of Bony de la Pica which meant the long descent that drops down 1300 metres of very technical trail begun. This was a completely frustrating descent as I was moving so slowly as running was still not an option. I think that the knowledge that Margineda being at the bottom was a bit of a race saver as I was feeling quite low here.
Finally after a torturous descent, I was on the streets of Margineda. Once in the sports hall, I grabbed a bowl of soup and crashed on the floor. I was a wreck. I desperately need some fuel in me but just couldn't stomach it. I poured the watery chicken soup straight down my neck, but even this was difficult to swallow.
I now needed to decide and think about what was going to happen now. Ultimately, whether I should proceed. I still was a fair bit in front of the cutoff, but I felt awful. I usually set myself three targets. The first is to finish, the second if I finished was a time I thought I was very capable of, and if this was achieved, then I would have an ambitious time. The times were out the window, which left just to finish, regardless of time. I don't think I have ever been in this position before, but here I was. Do I stick with it and push on regardless that failure is still a distinct possibility, or do I just DNF right now, have a shower and curl up in a clean bed somewhere and sleep?
I felt like, no matter how painful it was going to be, and no matter just how slow, I should push on. I would certainly regret pulling now now although the temptation was huge. I always have huge respect for the elites when they have an awful race, but drag themselves to the end regardless. Now was my moment to see how much real inner strength I had. The challenge was daunting, but felt new and almost exciting. Could I fight off failure?
I decided I would grab one of the campbeds and a blanket and have a really good lie down, and see if I could settle the stomach before setting off. I don't know exactly how long I stayed here, occasionally getting up and trying unsuccesfully to eat, before packing up and getting back on the trail but it was between 4-5 hrs. I walked off with a handfull of food which I tried to eat, eventually throwing away. Within 30mins the sun was back up and was giving me a good hiding. I tried not to dwell too much on how little I had capitalised on the cooler night hours, and put my head down and focused on the medititive tapping of my poles as I slowly progressed.
This second day is not very clear in my mind, but what I do remember is that the heat was just as dibilitating as the previous day for me. I again just ate mostly melon and drank some coke, though this wasn't great. I would stop and soak my buff in any water I found, and was stopping more and more and lying down whenever shade was on the course. Time really was completely unimportant now. Survival.
The day passed painfully slowly and again the sun begun to dip behind the mountains. I really needed to just try to keep some sort of rhythm going now. I would continue to stop often and frequently, as I thought it was key to keeping me going. I made some very rough calculations in my head and then realised that I would be hiking through the night and through a large chunk of the next day. I wasn't hopeful for cooler weather as I recalled the forecast which was just wall to wall sunshine and scorching hot weather. So far if anything, it had only been incorrect as it was hotter than predicted!
The night passed uneventfully yet still my guts were not feeling well. I was quite a state now, and was in a world of pain, but sure enough the km's left was slowly shrinking. Could I actually complete this thing? I was starting to believe that maybe I could.
Just before dawn begun to show, I began a descent which took me to the lights of a town that must be Pas de la Casa, the location of the second, and last major cp. The location of my only drop bag with spare shoes, socks and a t-shirt. I again thought I should have a very relaxed time here and clean up a little before donning the fresh kit. Hopefully this would give me a fresh lease of life that would give me a chance of getting through the final day of sunshine and deliver me to the finishline in Ordino.
On arrival I got a very unsatisfactory plate of cold pasta and managed very slowly to get half of it down. I then found my drop bag and went to the showers and washed the grime from my legs and feet before putting on my fresh kit. Then it was 20 minutes horizontal on a campbed. Once done I got up and had a very nice hot chocolate which thankfully went down very nicely, so I had another, and rushed out the door ready to face the last day. It was still dark out so I really wanted to take advantage of this while I was fresher. There was actually some positivity starting to flow through me. Although I was dreading the effects of the scorching sun, I was looking forward to enjoying my last day running in this beautiful country and maybe even finishing this thing, that was turning into the hardest run of my life.
I left the town and was soon speed hiking through a very faint trail that followed a river. I could see headlights up ahead and soon I saw that I was gaining on them. I hadn't really been catching anyone for the majority of the race, so this was great for morale. This climb up to the pas de Vaques was long and beautiful. Around half way up, I caught a chap who had stopped and was sat down. I sat with him for a minute or two and we had a broken conversation. I stood and continued to the pass which was still loaded with snow. The rest of the day was a combination of slow hiking, more huge ascents and descents, much sheltering in what little shelter appeared, and thankfully my stomach had settled just a little, but enough to eat a little. I was generally feeling much better about things and was really appreciating the whole journey that had gone so wrong, but had turned into a huge incredible challenge, that had almost finished me off.
It wasn't over yet though...
The final climb was as tough as anything that that had preceeded, and the final section was up a scree section that was very steep. Over a small snow patch and then the final 18km descent begun. I now, for the first time in possibly 40 hrs, begun running! It was slow and pretty painful, but felt good just to be actually running again!
I seemed to be getting overtaken at the same rate as I was overtaking others, but soon approached the final cp at Sorteny. I stopped in here for about 10 minutes preparing myself for the final push to Ordino. I asked the staff how far remained, and was surprised with the response. 12km! That'll teach me for not looking at the course before the race!
I managed to run quite a bit towards the end, but it took a lot of willpower to keep moving as fast as possible. The smile begun to creep across my face as I realised I was actually going to finish. It was starting to feel like my greatest finish yet. It was going to be over 17 hours slower than I had planned, but somehow I was really starting feel pride in the achievement.
After the flattest section of the whole race to the end for 6km following the valley, I entered the town of Ordino. The final little uphill drag to the finish was hard but I forced myself to run. Then I turned the corner and crossed the line. It was all over and I had finished in just over 57 hrs. The cutoff was 62 hrs so I had well beaten that. It was just after 5 in the afternoon and It was 36 degrees. I felt like melting away.
It is now weeks later and recovery was quick, due I assume to how little high impact running took place. My stomach was unsettled for three days afterwards, but then I felt fine. I left it for a week before running again, and felt great. Two weeks later I fell on a descent very heavily on my knee and have damaged my meniscus! I am currently fully resting, off work and awaiting my MRI scan which is in 6 days time, to discover the extent of the damage. So, my other race of the year is looking a little shaky whether I make the start line at the moment. Anyway, this is a race report not my tales of woe.
If you love super tough mountain races and want to do a tour of a whole, beautiful country, then I strongly advise checking out the Andorra races. There are three shorter races if you don't want to destroy yourself!
Happy running.